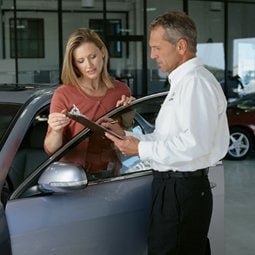 Utilize Our Expert Service Center in Bath
Routine automotive maintenance and repair are extremely important. You deserve a service center that is equipped to handle any need you may have. That's what we, at Simmons-Rockwell Ford of Bath, are here for. Here is just a bit about what you can find at our expert service center. When you decide that we are the Ford service center for you, visit our location near the corner of Old Hammondsport and Industrial Park Rd. 
Trained Ford Technicians
At the heart of our service center near Painted Post are the experts that work there. These professionals bring a ton of experience to the table, along with industry knowledge and certifications. That means you are sure to get the right fix when working with us.
We also focus on customer care throughout your experience. Our team knows that automotive maintenance and repair can be a stressful experience. This commitment to care and service allows you to simply enjoy your visit.
Routine Maintenance
There are a ton of reasons to visit our service center near Dundee, NY. We work to fix whatever your new Ford Escape or Ford F-150 may need. From battery checks to a new set of tires, we are the team to choose when you need the job done well. Here is just a quick rundown of some very important services to keep track of.
Oil Changes
One of the most essential parts of your Ford Explorer or Ford Mustang is the oil. A general rule of thumb is that you should change your oil every 3,000 to 5,000 miles. This timeframe can change depending on your Penn Yan driving patterns and the make or model of your vehicle. Our professionals can give you a more exact estimate of your next oil change during your visit.
Tire Rotations
Handling a daily commute down nearby County Route 13 can lead to worn-out tires. Whether you are hitting the same bumps or handling the same trails, your tires will continue to wear down unevenly. This can lead to dangerous and inefficient driving. Our team will strategically rotate your tires to different positions so that you get the full life out of your current set. This is a helpful service that will save you a fair amount of money in the long run.
Brake Inspections
Your safety relies heavily on your brakes while driving through Horseheads, NY. Our technicians can make sure your brakes are working just the way they should when visiting us for an inspection. If they don't meet our standards, we can also replace them with ease. After leaving our lot, you can count on your brakes and drive with a complete peace of mind. Some common warning signs of worn-out brakes include:
Unusual Vibrations
Pulling to One Side When Braking
Squealing or Grinding Noises
Service Specials
We aim to make every step of your service visit more enjoyable. To do that, we also offer service specials to save our customers money. These specials can cover oil changes, battery inspections, and other general needs.
Our team is constantly working on saving you money. That is why we routinely update our specials and offers. So, be sure to ask one of our professionals if you qualify for an available special during your next service appointment.
Schedule Your Service Online
Customers can even schedule their service appointment online. This is an easy-to-use form that will get your visit in our books while you enjoy a break or morning coffee in Watkins Glen, NY. Once it's time for your appointment, visit our service center located off State Route 54. Feel free to give us a call if you need help finding our center.